Newsroom
Vacancy at The National Archives: Conservation Manager, Digitisation Services
Monday, 23 November 2015 14:38
Conservation Manager, Digitisation Services
Location: Kew, West London 
Starting Salary: £25,816
Position Type: Full-time//Permanent
Closing Date: Midnight, Friday 18th December 2015
Job Ref: 1943x
The National Archives is recruiting a Conservation Manager in its Digitisation Services Conservation Team. The Conservation Manager in Digitisation Services will be expected to manage a digitisation preparation team to deliver the conservation elements and document preparation requirements of The National Archives' digitisation agenda. The successful applicant will be involved in end to end project planning and management in collaboration with internal and external stakeholders, providing guidance on conservation treatments, timescales and appropriate scanning equipment and processes.
For more details and to apply for this position, please visit the website: http://bit.ly/1R0pyIq
Filling the Digital Preservation Gap - Webinar 25th Nov
DPC is deligthed to invite members to an informal webinar on Wed 25th November 1300-1400 with Jen Mitcham and Simon Wilson about their current project 'Filling the Digital Preservation Gap'  For more details on how to join ths event, see the full announcement on the DPC Events Page.
Vacancy at National Library of Ireland: Web Archive 2016 Archivist/Librarian
Web Archive 2016: Archivist/Librarian
Location: Dublin, Republic of Ireland
Salary: 
€30,000 per annum (€574.93 per week)
Position Type: Full-time, Fixed-term for 15 months
Closing Date: 
Tuesday 24th November 2015 at 17:00 hrs
The National Library of Ireland (NLI) is seeking a talented, self-motivated Archivist/Librarian to work on the National Library of Ireland's 2016 web archive.
Brief Description of Position
As part of the NLI's programme for 2016 which includes the strand Remembering 1916, Recording 2016, the NLI intends to capture and preserve the content of key websites that tell the story of 2016 online. This includes the centenary commemorations of the 1916 Rising and also commemorations of the Irish experience of the Battle of the Somme. The 2016 Web Archive Project Archivist/Librarian will be responsible for working on this with NLI staff to ensure that relevant websites are identified and captured and that all aspects of the web archiving process are completed in relation to this project.
This is an excellent opportunity to work in a stimulating, challenging environment, and contribute to the creation of an online record of the documentary and intellectual output of Ireland in relation to the commemorative events of 2016.
For more details on the position and to apply, please visit the website: http://www.nli.ie/vacancies
Vacancy at HATII, University of Glasgow: RDM Systems Developer
RDM Systems Developer
Location: Glasgow
Salary: Grade 7 (£33,574- £37768) 
Position Type: Open ended, funding until 31/7/2016 in the first instance
Closing Date: 6th December 2015
Vacancy Ref: 011641
The Humanities Advanced Technology and Information Institute (HATII) at the University of Glasgow is looking for a new systems developer to join the team. The post-holder will develop a number of applications relating to research data management and curation within HATII's portfolio of research projects.  The post-holder will work collaboratively in a team of software developers across multiple partner sites, and will liaise with the wider IT group within the College of Arts to deliver quality software for HATII's projects. 
For more details on the position and to apply, please visit the website: http://www.gla.ac.uk/about/jobs/vacancies/
DPC Invites Members to Attend its 13th Annual General Meeting
DPC is delighted to invite members to the 13th Annual General Meeting of the DPC which will be held at 14.45 on Monday the 30th of November 2015 in the Lecture Theatre, Weston Library, Broad Street, Oxford OX1 3DG. The meeting is expected to end at approximately 1530 and will be followed by a tour of the Library.  Tea and coffee will be available from 1430.  This year's AGM will include the first inaugural DPC President's Address, by Richard Ovenden. The AGM will be chaired by Laura Mitchell, Chair of the Digital Preservation Coalition.
The Agenda is posted below and papers will be made available imminently in the members' area of the DPC website.
1430 (Tea and coffee served)
1445 Meeting Starts
1.Welcome
2.Introduction and formal notice of meeting
3.Apologies
4.Minutes of the Twelfth AGM, held on Monday 17th November 2014, London (DPCAGM15B)
5.2014-5 Annual Report of the DPC (Verbal Report)
6.The 2014-15 Annual Accounts of the DPC (Jackie Senior, G&E) (DPCAGM15C)
7.Election of Chair and Vice-Chair of the DPC
Chair nominated for re-election

Vice-chair nominated for re-election
8.Any Other Business
9.The Inaugural DPC Presidential Address by Richard Ovenden, President of the DPC
        'Our digital memory accessible tomorrow'
1530 (approx.) Close
The Digital Preservation Coalition welcomes the British Museum as its latest associate member, October 2015
Digital data exists in the British Museum in many different forms, from many different sources and for many different uses. It includes digital images registered as collection objects, photographic assets of the wider physical collection, scientific and conservation data related to the collection, and archival data amongst other things.
Laura Mitchell, chair of the DPC said "The museum sector is facing a wide variety of digital preservation issues and it is therefore great news, and very encouraging, to see the British Museum joining the DPC. This significantly increases our profile in the museum sector and I look forward to welcoming many others following the example set ".
"The Museum views the sustainable management of its digital assets as an organisational priority in attaining our larger goal of being a museum of the world for the world. This aim has been supported by the Museum's African Rock Art Image Project which is registering some 25,000 digital photographs into the collection; a first for the Museum," explained Glenn Cumiskey, Digital Preservation Manager at the British Museum. "We view membership of the DPC as an essential step in facilitating the capacity building necessary to enable our vision."
'We are delighted to welcome the British Museum to the Coalition", said William Kilbride of the DPC. "Their appointment of a Digital Preservation Manager within the last year shows the museum's commitment to the ongoing challenge of digital preservation. Glenn is very active within the community and I am looking forward to collaborating with him to the mutual benefit of other memory and heritage institutions as well as all DPC members."
More information about the British Museum can be found on their website: http://www.britishmuseum.org/
More information about the Digital Preservation Coalition can be found here: http://www.dpconline.org/
To join the Digital Preservation Coalition see: http://www.dpconline.org/join-us
Your Coalition Needs You: Sub-Committees and Finance Director
The DPC is owned and run for its members. We need to understand members needs and need to be accountable to them.
Our working assumption has always been that the Board, constituted from our full members, ensures we are responsive and transparent. On that basis our programme and our membership have expanded substantially in recent years. It's a success but we are aware that complexity challenges transparency and makes it harder for us to understand your needs. So the Board has approved a plan to change how we do things. We want your help with two things…
Firstly, we'd like to invite members to nominate themselves to join one of 4 sub-committees which will guide and review our work. The sub-committees will be chaired by a Board member and each one will take ownership of one our strategic objectives. We've been quietly recruiting members for these sub-committee so that we can 'boot strap' them into existence but we would like to hear from anyone interested in joining. The sub-committees are as follows:
This sub-committee will help our Head of Training and Skills, Sharon McMeekin deliver the strategic objective of competent and responsive workforces ready to address the challenges of digital preservation

Partnership and Sustainability
This sub-committee will help our Business Manager, Alyson Campbell deliver the strategic objective of closer and more productive collaboration within and beyond the Coalition
This subcommittee will help the Head of Research and Practice, Paul Wheatley, deliver the strategic objective of better tools, smarter processes and enhanced capacity in digital preservation
Communications and Advocacy
This subcommittee will help the Head of Communications and Advocacy, Sarah Middleton, and her maternity cover officer Lorraine Murray deliver the strategic objective of a political and institutional climate responsive to the need for digital preservation
The commitment is one meeting each quarter for about 2 hours, meeting mostly by teleconference. We're currently reviewing terms of reference and will be holding kick off meetings in the next couple of months. The sub-committees will review the work plans, quality improvement plans and risk and opportunity registers for each area, reporting to our quarterly board meetings. Membership is open to individuals employed or associated with DPC members (associates or full members) as well as our small band of personal members. We're looking for one or two volunteers to complement those already signed up. The only other qualification is a willingness to roll your sleeves up and get stuck in. It's a great opportunity to steer the ship: if you are interested in helping out please contact the relevant member of staff.
Secondly, the Board would like to co-opt from the membership to a new role, Finance Director who will act in effect as honorary treasurer for the Coalition. It's because our finances are becoming more complicated as our programme has grown. This new role will strengthen financial oversight and planning and comes with a full seat on the Board. It will become quite a significant position and we'd envisage the candidate bringing relevant experience or qualifications. The Board has approved terms of reference for the post . Time commitment is expected to be something in the region of 6 hours per month.
If you are interested in any of these roles, or you know someone whom you think be interested then contact us as usual: This e-mail address is being protected from spambots. You need JavaScript enabled to view it
Digital Preservation Handbook Update, October 2015
Originally published in 2001 as a paper edition, 'Preservation and Management of Digital Materials: a Handbook' was the first attempt in the UK to synthesise the diverse and burgeoning sources of advice on digital preservation. Demand was so great that in 2002, a free online edition of the Handbook was published by the newly established Digital Preservation Coalition.
After more than a decade, in which digital preservation has been transformed, the Handbook remains among the most heavily used area of the DPC website.
Funders and organisations are collaborating on re-designing, expanding and updating the Handbook so it can continue to grow as a major open-access resource for digital preservation. The DPC and Charles Beagrie Ltd have been engaged on a major re-working of the Digital Preservation Handbook for release as a new edition over 2015/2016. The National Archives (our Gold Sponsor) working together with other stakeholders including Jisc, the British Library, and The Archives and Records Association (our Bronze Sponsors), is supporting the Digital Preservation Coalition in updating and revamping the Handbook. Many individuals and organisations are also contributing to this work through book sprints, peer review, project and advisory boards.
The revision, guided by the user feedback and consultation (see Report on the Preparatory User Consultation on the 2nd Edition of the Digital Preservation Handbook), is modular and being undertaken over a two year period to March 2016.
We have provided updates at regular intervals to inform the community on progress with the project and with this October update we are delighted to announce a number of key developments.
Publication Schedule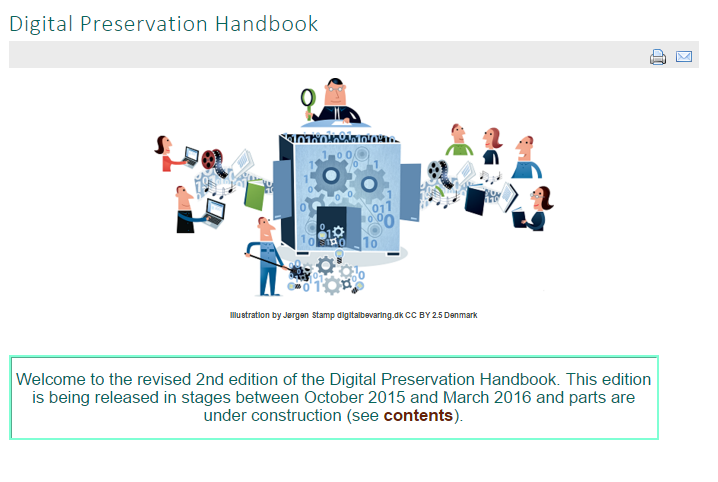 We are pleased to share the news that a critical mass of content has been prepared and peer reviewed and the project board has agreed we should release a majority of the Handbook this Autumn. DPC members have already seen the emerging revised 2nd Edition of the Handbook on the members' private area and this has been switched to the public side of the DPC website. This partial release will be further enhanced by additional functionality when a new platform for the website focused on 'responsive design' is brought on stream by the DPC early in 2016. This will provide an updated design and improved user experience on mobile and tablet devices, compared to the current site templates that are optimised for viewing on a desktop screen. We will also add the facility to generate PDFs. We hope to complete remaining sections of the Handbook for a formal full publication release of the Handbook by March 2016. In the interim some functionality and content will remain "works in progress" but the community will gain early access to a significant new resource.
ARA Joins Funding Group
The Digital Preservation Coalition was delighted to announce in September that The Archives and Records Association (ARA) had come on board as a 'Bronze Sponsor' for the eagerly anticipated second edition of the 'Digital Preservation Handbook'. As of Oct 2015, with the addition of the ARA we have raised 87% of estimated funding required for the Handbook revision and continue working to complete it.
Section Illustrations and Icons
We are using graphics available from digitalbevaring.dk (http://digitalbevaring.dk/about-us/) for main sections of the Handbook. They have kindly worked in collaboration with us to develop new illustrations when we have identified topics in the Handbook requiring new graphics for illustrations or icons.
New resources icon designs were received over the summer from digitalbevaring.dk and the interim versions have been replaced in the Handbook. These are the new set:
| | | | | |
| --- | --- | --- | --- | --- |
| | | | | |
| Publications | Tools | Web Resources | Videos and Webinars | Case Studies |
They are embedded now in all the Resources and Case Studies sections of the Handbook. It means there is now a consistent style to the Handbook with the icons and section heading illustrations sharing the same design, something we all felt was desirable. We are very pleased with the results and overall look that is now in place, and with the collaboration with digitalbevaring.dk that has added a lot to the visual appeal of the Handbook.
Multi-media
Multi-media resources where relevant have been selected and embedded in the Handbook. Selection has focussed on short, high-quality videos that can add significant value to experience and content.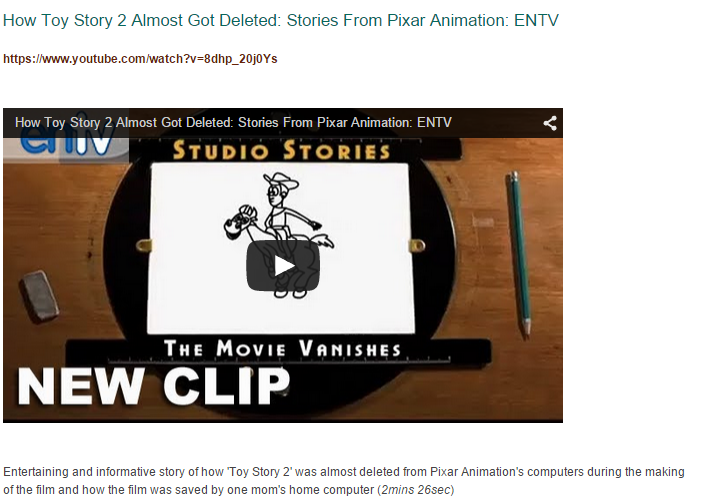 Handbook Workshop at DCDC15
A workshop on the Digital Preservation Handbook was run at the DCDC15 conference in early October. Powerpoint slides from the Handbook presentation are now available on Slideshare. They provide a detailed overview of the new edition Handbook and work in progress.
California Polytechnic State University invites participation in a study entitled "Software Preservation for Cultural Heritage"
California Polytechnic State University invites participation in a study entitled "Software Preservation for Cultural Heritage", which is part of an IMLS-funded project to establish a Software Preservation Network. The study aims to better understand cultural heritage practices and experiences surrounding long-term preservation and access to digital primary resources stored in proprietary file formats.
While the cultural heritage community has developed tools and workflows for bitstream preservation, the community lacks empirical data regarding the experiences and efforts of cultural heritage repositories to access material stored in proprietary file formats during appraisal, accessioning, description, and reference activities.
As part of this survey, participants will also be invited to opt-in for a follow-up semi-structured interview regarding proprietary software challenges. Anonymized data from the study will be made available to the profession and software rights holders, along with analysis of current trends and possibilities for future research.
The survey will last around 2 minutes and can be found here:
Further information on the Software Preservation Network project can be found here:
Zach Vowell, Digital Archivist, Robert E. Kennedy Library, California Polytechnic State University:  This e-mail address is being protected from spambots. You need JavaScript enabled to view it
Page 1 of 34