Newsroom
Digital Cultural Heritage Roadmap Project Conference: notes now available
William Kilbride attended a conference organised by the Digital Cultural Heritage Roadmap Project in Rome in September 2014 on behalf of the DPC. Informal notes from the event which are available to DPC members interested in the topic along with the slides of William's invited presentation.  To access the notes, and to see the full list of conference and workshop reports see the Conference Notes and Meeting Reports section of the Members' Area (login Required).
Vacancy at The National Archives, Kew: Senior Developer
Senior Developer
Salary: starting up to 55,000 GBP
Location: Kew, West London 
Post type: Full time till 31st May 2016
Closing Date: Thursday 25th September 2014 at midnight
Building on our award-winning experience in digital preservation, The National Archives has developed a new Digital Records Infrastructure (DRI) system to acquire, store and preserve our rapidly increasing digital collection. Operating at petabyte-scale, this system will ensure the long-term preservation of the UK government's records. Records such as government websites, the records of significant public inquiries, the decisions and deliberation of senior officials, ministers and prime ministers and the nation's digitised history from the 11th to the early 21st century are all to be preserved in the system.
As a senior developer, you will play a key role in the enhancement of this innovative and high-profile system, ensuring that it remains capable of handling the latest digital records as new record formats are presented to the archives for permanent preservation. The system comprises a series of batch-processing workflows constructed predominantly in Java, Scala, XSLT and XML Schema running in a Red Hat Enterprise Linux environment. You will influence the future design of the system and will be responsible for setting technical direction, mentoring staff, undertaking code review and also writing code yourself. You must be an expert in at least one or more programming languages, with a good level of knowledge of others; familiarity with Linux would also be an advantage.
You should be passionate about technology and information management, and your own skill development. Your creativity and experience will be essential to the organisation to inform and shape the design of new workflows that you will need to translate into efficient operational code. You will be motivated to find solutions to complex problems and will frequently look for opportunities to do things better. You will liaise with Heads of Department, technical staff throughout the Technology Directorate, and colleagues across The National Archives and beyond; the role will be varied and challenging. #
For more information see: http://ig24.i-grasp.com/fe/tpl_nationalarchives01.asp?newms=hm and follow relevant links.
Defining a Roadmap for Economically Efficient Digital Curation
The 4C project will give a workshop at this year's iPRES in Melbourne with focus on the recently published draft 4C Roadmap.
The workshop will take place on Monday, October 6th, 9:00 – 13:00 at the Conference Centre of the State Library of Victoria, and is an opportunity for participants to learn more about the economics of digital curation and to critically assess the efficiency and sustainability of their own services and solutions. It is also an important opportunity for the project to connect with stakeholders and get input for a critical deliverable of the project. Please find more information here.
The workshop is free of charge, but capacity is limited so make sure you register here. Registration is open until September 30th.
Vacancies at RCAHMS: Two Digital Archives Officers
Digital Archives Officers
Post type: Full time, Fixed Term Appointment until 31st March 2016
Pay Band C - £22,022 to £28,448
Location: Edinburgh, Scotland
Closing Date: 1st October 1200 (Local time)
RCAHMS is keen to recruit two Digital Archives Officers to work as part of the Collections Team within the Royal Commission on the Ancient and Historical Monuments of Scotland (RCAHMS) and Historic Scotland. The post holders will assist with day-to-day duties relating to the digital collections including archive ingest, processing accessions, cataloguing and liaison with depositors; assist with the preparations for and implementation of a proprietary digital preservation repository system; and work to deliver and improve access to the digital collections.
It is essential that the successful post holders have a degree in Information Management or another relevant discipline and/or relevant work experience, as well as experience of working with a range of digital resources and technologies and a good knowledge of applied digital curation.
Successful applicants will have access to a generous total reward package that includes:   
A competitive salary and defined benefit career average pension scheme
25 days annual leave, plus 4.5 days privilege leave in addition to 7 bank holidays
flexible working arrangements
childcare vouchers
cycle to work voucher scheme
on-going development and training opportunities
RCAHMS is an equal opportunities employer which embraces diversity and which promotes equality of opportunity. We offer a guaranteed interview scheme for disabled applicants who meet our minimum selection criteria. RCAHMS are a certified gold healthy working lives and cycle friendly employer.Closing date for the return of completed applications is at 12.00 noon on 1st October 2014. An interview date will be decided once the applications have been received and sifted.
For more information see: http://www.rcahms.gov.uk/jobs/digital-archives-officers
Making Progress in Digital Preservation, London 31/10/14
Making Progress in Digital Preservation
31/10/2014 10:00 16:00
HSBC, Canary Warf, London
The DPC, the Business Archives Council and the Archives and Records Association invite you to join them for 'Making Progress in Digital Preservation' in London on 31/10/2014.
Digital preservation – representing all the activities necessary to ensure that digital objects and data can be found, accessed and deployed beyond the limits of technological obsolescence, media failure or creator dependency – is a growing challenge for agencies and individuals in all kinds of contexts. Our generation has invested as never before in digital resources and we've done so because of the opportunity they bring. Digital collections have grown in volume, complexity and importance to the point that our children are baffled by the inefficiencies of the analogue age. Pervasive, fluid and vital: digital data is a defining feature of our age. Industry, commerce, government, law, research, health, social care, education, the creative industries, the heritage sector and private life depend on digital materials to satisfy ubiquitous information needs and expectations. But digital objects are fragile: at risk of loss, corruption or obsolescence, not to mention unlawful alteration or theft. Collection managers, IT officers, academic researchers, broadcasters, developers and industrial regulators need to ensure that the digital collections which they use and depend upon are accessible for the long-term: but training in these new skills can be hard to acquire.
This new workshop 'Making Progress in Digital Preservation' is designed to meet the need of those who have taken preliminary steps in digital preservation but are looking to move towards more structured and enduring processes and procedures. Drawing heavily on case studies, and responding to the greater subtlety required when implementing policies and plans, this workshop will examine three key areas of organisational needs: policy, resources and technology. By the end of the workshop - which will include time for networking and sharing - participants will be equipped with practical targets for implementing digital preservation, as well as guidance and tools to make those targets achievable.
This event will focus on tools and case studies most relevant to digital preservation in a commercial environment.
Places are strictly limited and should be booked in advance. Registration will close one week before the event and early booking is recommended as we expect these events will be popular. Registration is free for DPC members (click here to find our about joining) or costs 30 pounds per place for non-members. It should be paid by cheque before the event date or cash on the day. Registration is now open for all. There are currently 43 places available. Registration closes on 24/10/2014 12:00.
For more information including registration see:
http://www.dpconline.org/events/details/82-making-progress-in-digital-preservation?xref=96
Preserving PDF Workshop - Notes available
Jo Gilham of the Archaeology Data Service attended a workshop organised by the OPF in Hamburg in September 2014 on behalf of the DPC on the broad topic of Preserving PDFs.  She has provided informal notes from the event which are available to DPC members interested in the topic.  To access her notes, and to see the full list of conference and workshop reports see the Conference Notes and Meeting Reports section of the Members' Area (login Required).
Every vote counts: polling opens for the 2014 Digital Preservation Awards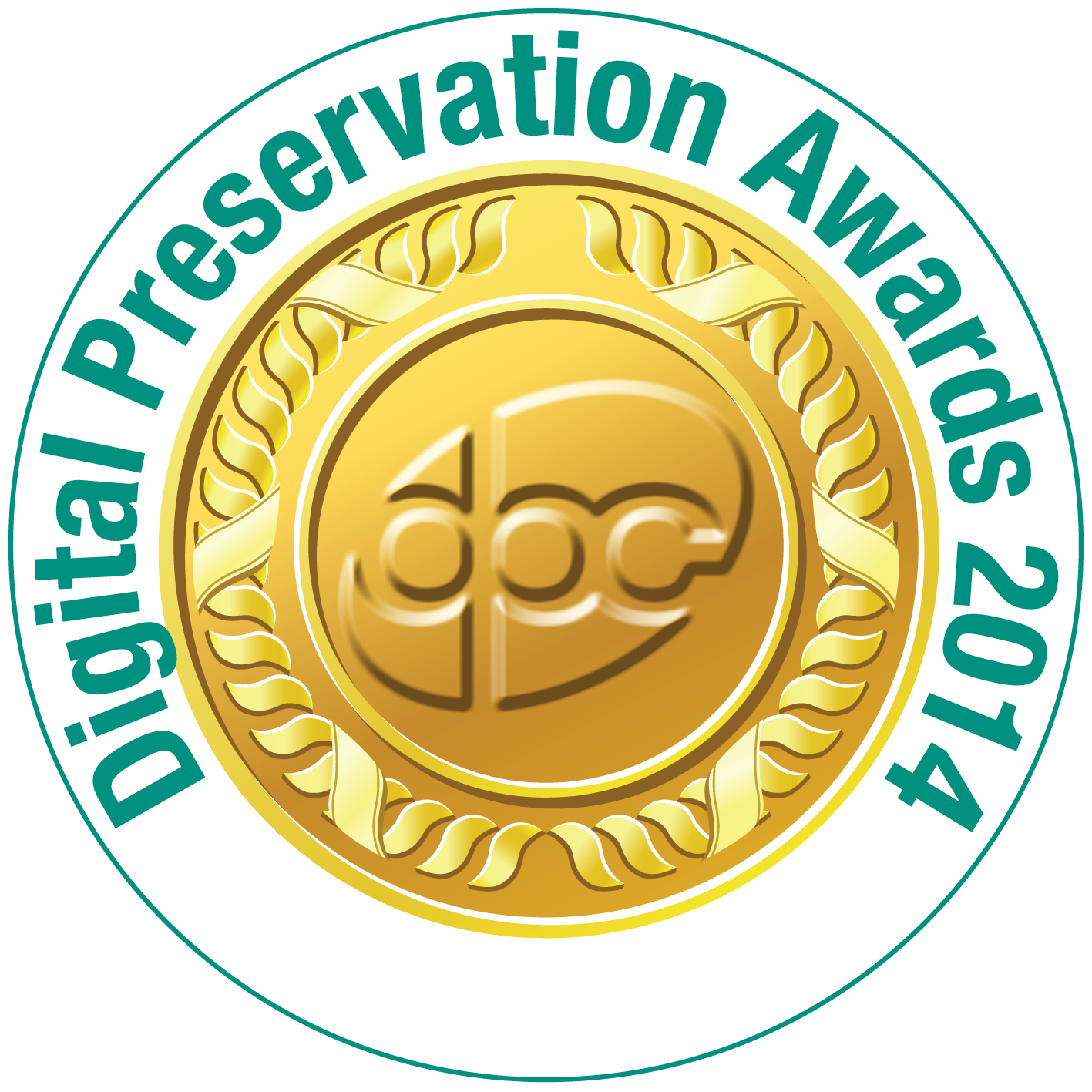 DPC members are invited to cast their vote and decide this year's winners as polling for the 2014 Digital Preservation Awards opens today.
The Awards are a prominent celebration of achievement for those who have made significant and innovative contributions to maintaining a digital legacy and this year new categories have enabled more recognition than ever before:
The OPF Award for Research and Innovation recognises excellence in practical research and innovation activities. 
The NCDD Award for Teaching and Communications recognises excellence in outreach, training and advocacy.
The DPC Award for the Most Distinguished Student Work in Digital Preservation encourages and recognises student work in digital preservation.
The DPC Award for Safeguarding the Digital Legacy celebrates the practical application of preservation tools to protect at-risk digital objects.
The judges have shortlisted at least three nominations in each category and now it's up to the members of the DPC to make the casting vote.
"Each member has one vote in each category so we hope to encourage debate about which are the best nominations," explains William Kilbride of the DPC.  "Voting is open to all the agencies and personal members which form the DPC family, but votes need to be cast online by 1700 on Tuesday 30th September."
Votes should be cast by the board director or designated contact in each member organisation. Where DPC members have been shortlisted, they cannot vote for themselves. This will be taken into account when the results are in, to ensure a fair and even playing-field.
The voters pack is online but you may need to register for the website before you can cast your vote.
Our digital memory tomorrow: finalists announced for the Digital Preservation Awards 2014
The DPC is delighted to announce the finalists for the Digital Preservation Awards 2014.
Created in 2004 to raise awareness about digital preservation, the Digital Preservation Awards are the most prominent celebration of achievement for those people and organisations that have made significant and innovative contributions to ensuring our digital memory is accessible tomorrow.
'In its early years, the Digital Preservation Award was a niche category in the Conservation Awards', explained Laura Mitchell, chair of the DPC.  'But year on year the judges have been impressed by the increasing quality, range and number of nominations.'
'I'm delighted to report that, once again, we have had a record number of applications which demonstrate an incredible depth of insight and subtlety in approach to the thorny question of how to make our digital memory accessible tomorrow. '
The judges have shortlisted thirteen projects in 4 categories:
The OPF Award for Research and Innovation which recognises excellence in practical research and innovation activities.
The NCDD Award for Teaching and Communications, recognising excellence in outreach, training and advocacy.
The DPC Award for the Most Distinguished Student Work in Digital Preservation, encouraging and recognising student work in digital preservation.
The DPC Award for Safeguarding the Digital Legacy, which celebrates the practical application of preservation tools to protect at-risk digital objects.
'The competition this year has been terrific', said Louise Lawson of Tate, chair of the judges.  'Very many strong applications, which would have won the competition outright in previous years, have not even made the shortlist this time around.'
The Digital Preservation Awards have been celebrating excellence for 10 years now and is being supported by some leading organisations in the field including the NCDD and Open Planets Foundation. Hosted by the Wellcome Trust, their newly refurbished London premises will add to the glamour of the awards ceremony on Monday 17th November.
The finalists will attract significant publicity and a deserved career boost, both at organisation and individual level. Those who walk away with a Digital Preservation Award on the night can be proud to claim to be amongst the best projects and practitioners within a rapidly growing and international field.
'Our next step is to open the shortlist to public scrutiny', explained William Kilbride of the DPC.  'We will be giving instructions shortly on how members of the DPC can vote for their favourite candidates. '
Vacancy at King's College London: Research Associate/Developer (Digital Preservation)
Location: London, UK
Salary: 32277to 38511GBP p.a. Plus London allowance of 2323GBP
Contract: Full-time, till 31 Jan 2017
Closing date: 23 September 2014
King's College London is seeking to recruit a Research Associate/Developer to work on the EU FP7 project PERICLES, which has been funded as part of the EU's Digital Preservation programme. More information about the project can be found at the project website http://pericles-project.eu/.The post is in the Centre for e-Research, part of the Department Digital Humanities, which undertakes a wide range of collaborative research projects across King's, as well as with other UK universities, with European institutions, and internationally with HE library and research institutes.The post holder will work as a Research Associate/Developer, working closely with research staff at King's and at partner institutions. Specifically, the post holder will be expected to contribute to the on-going research being carried out by KCL staff on PERICLES, which currently includes:
Modelling and implementing appraisal processes for born-digital material, including digital forensics.
Modelling conceptual change to support long-term understanding of digital content.
Capture and analysis of unstructured user workflows and analysis of user context.
Using formal models to represent dependencies and assess risk to digital content.
Design practices for digital preservation systems.
The post will require a combination of theoretical work, design and implementation of proof-of-concept tools and other software components, and evaluation. The successful candidate will be expected to have demonstrable research skills in an area of applied computing or information science (e.g. digital preservation, semantic web, machine learning, data analytics, information retrieval), and to possess software development skills (e.g. Java, Python) and a knowledge of a range of computing technologies of relevance to preservation systems, e.g. XML, databases, web services.
The full-time appointment will be made within the Grade 6 scale, currently £32,277 to £38,511 per annum plus £2,323 per annum London Allowance. The post is fixed-term until 31 January 2017 The closing date for receipt of applications is 23 September 2014
Vacancy: Digital Library Developer, Library Services, LSE
Vacancy for Digital Library Developer at The London School of Economics and Political Science

Location: London, UK
Salary: £33,450 to £40,462 p.a. inclusive
Contract: Full-time, Open-ended
Closing date: 12 September 2014 at 23:59
The London School of Economics and Political Science (LSE) is one of the foremost social science universities in the world. The Library of LSE provides one of the best social science collections in any university – supporting the research and teaching of LSE as well as opening its doors to the wider world.
The Digital Library Developer is responsible, with a co-developer, for the development of the Digital Library, by managing, maintaining and growing the Digital Library's infrastructure: its storage and preservation repository, middleware and web presence. The post-holder is therefore expected to be a "full stack developer", able to develop and manage both the Digital Library's underlying repository infrastructure (based on the Fedora repository technology) and the web presence that makes the Library's materials and collections available.
You will have substantial knowledge and experience of a variety of programming languages. Of particular use will be Ruby in the Ruby on Rails environment, the language in which our repository middleware (Hydra) is written in. Also of vital importance will be front-end web development skills, as the post has an emphasis on further developing the Digital Library's web presence, so knowledge of HTML5, Javascript and CSS will be very important. As well as programming skills, you will be experienced in developing documentation, providing technical expertise on web and library technologies, working with stakeholders in developing Digital Library and other library services, contributing to strategy and policy, and contributing to the broader work of the team and of the Library more generally.
This is a very exciting time for LSE Library Services with the ongoing development of our Digital Library to acquire, preserve and provide public access to digital collections, as well as the introduction of the Women's Library @ LSE – Europe's largest collection of material relating to the lives of women. The Digital Library is emerging as a sector leader in providing preservation and access for LSE's digital collections, and this is an opportunity to contribute to this cutting-edge service and to the Library's emerging digital scholarship strategy. The job will appeal to anyone interested in applying their computer programming and development skills to new challenges in the Museums, Libraries and Archives space.
For an informal discussion about the role please contact Neil Stewart, Digital Library Manager, This e-mail address is being protected from spambots. You need JavaScript enabled to view it .
In addition to a good salary the benefits that come with this job include a defined benefits pension scheme, generous annual leave and excellent training and development opportunities.
To apply for this post, please go to www.lse.ac.uk/JobsatLSE and select "Vacancies". If you have any queries about applying on the online system, please e-mail: This e-mail address is being protected from spambots. You need JavaScript enabled to view it quoting reference 1432345.
The closing date for receipt of applications is 12 September 2014 (23.59 UK time). Regrettably, we are unable to accept any late applications. Interview date is 25 September 2014.
Page 1 of 26