Newsroom
'Opening Up Scotland's Archives' - 7 Traineeships available in Scottish Archives
The Scottish Council on Archives (SCA) is delighted to announce the latest opportunities for the third cohort of the Opening Up Scotland's Archives initiative.
Supported by the Heritage Lottery Fund's Skills for the Future programme, Opening Up Scotland's Archives aims to improve skills and develop the Scottish archives sector. In partnership with archives from across Scotland, this year there are seven work-based traineeships available. Trainees spend the year working on real-life projects, whilst learning new skills. They will help to bring the past to life for new audiences and ensure our documented national memory remains accessible to future generations.
Trainees will benefit from an annual bursary, mentoring and working on a range of exciting projects – including outreach and community engagement, digital preservation, collections development and traditional archive skills – which will enable them to develop a variety of skills they can take with them to future career and training opportunities.
 SCA is very grateful to the seven host institutions:
Tasglann nan Eilean Siar (Hebridean Archives)
Library Special Collections Division, University of St Andrews
Glasgow School of Art Archives
Glasgow City Archives
Centre for Research Collections, University of Edinburgh
Midlothian Council Archives
National Records of Scotland
Details on the traineeships and how to apply can be found on the SCA website at: www.scottisharchives.org.uk/sff/apply. Please note that candidates should not already possess a postgraduate qualification in the area of heritage, archive or museum practice.
All enquiries regarding recruitment should be directed Adopt an Intern. We have FAQ details at: www.adoptanintern.org.uk/scatraineeship_faqs.
All other enquiries can be directed to: This e-mail address is being protected from spambots. You need JavaScript enabled to view it . 
Cloudy Culture: Preserving digital culture in the cloud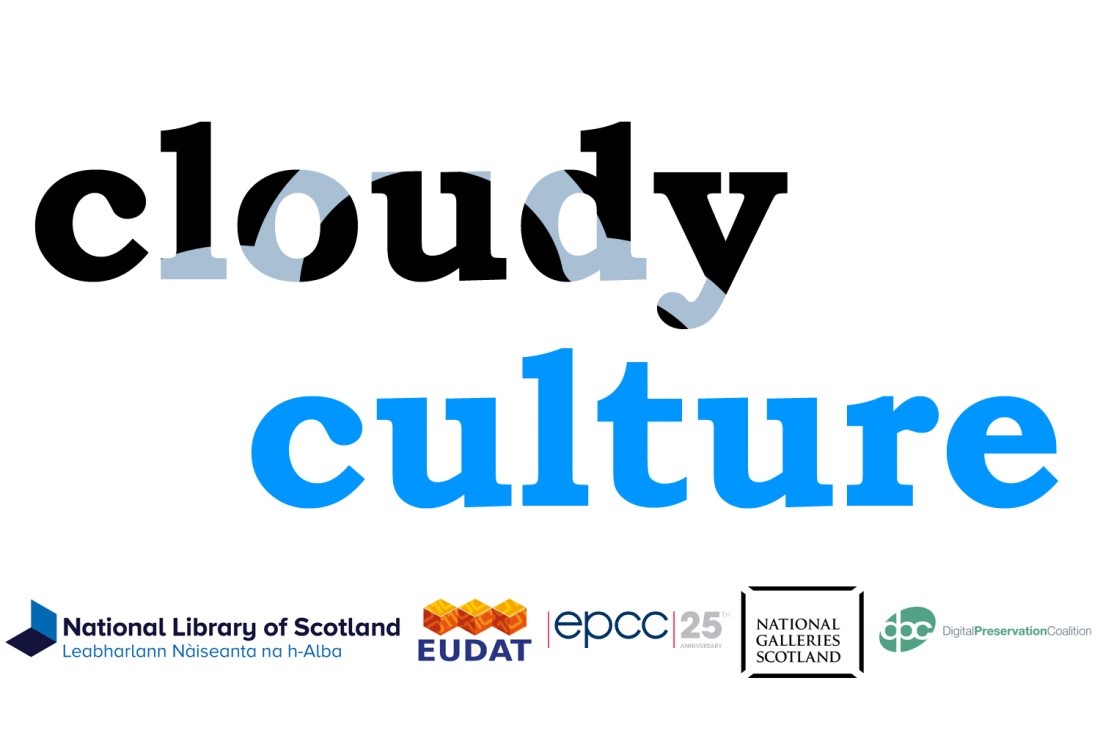 By now you'll have heard of The Cloud. The big amorphous space out there that is the answer to anything digital. You want more storage? You need the cloud. You want a back-up copy of all of your treasured photos? You need the cloud. You want to undertake large scale high performance number crunching? You guessed it…you need the cloud. So it's no surprise that the cloud is featuring more and more in the cultural heritage sector too. Tate Gallery, the Parliamentary Archives and the Bodleian Library have all dipped their toes, or their heads, into cloud technology. The National Library of Scotland has also been thinking about the role of the cloud, which is essentially a service that stores and manages digital information, as part of its continuing mission to preserve the nation's digital culture. Is the cloud the answer to all our digital problems and if it is surely there's a price tag attached to it. To find out the National Library of Scotland is about to embark on a journey of discovery with the Edinburgh Parallel Computing Centre, National Galleries of Scotland and the Digital Preservation Coalition. It doesn't matter if you haven't heard of these organisations, just be assured that we are all interested in preserving digital culture for current and future generations. Our journey starts at a project called EUDAT…
Archives Trainee vacancies (1 year) with HSBC Archives, London
HSBC is pleased to announce two traineeships for 2016-17. The successful candidates will join the busy London office, which is part of a global team of archivists working in HSBC. You will be responsible for a wide range of archive duties and provide general administrative support to the team.
Duties will include:
supervising the searchroom and retrieving records for 

researchers

answering internal and external enquiries about the history 

and archives of HSBC

accessioning and cataloguing physical/digital deposits

carrying out improvements to catalogue data

re-packaging and other conservation tasks

researching and writing articles

taking part in outreach work such as open days, exhibitions and

 branch anniversaries
The successful candidates will be working with our digital archives system. Prior experience in using Preservica and Calm software is welcome, but not essential.
The positions are based primarily at the HSBC Archive Centre in Canning Town, with occasional days spent at head office in Canary Wharf. The posts will start in September 2016 and last for one year. Applicants should be enthusiastic and able to work with minimal supervision. Adaptability and attention to detail are key qualities.
The post is designed to suit someone looking for pre-course experience and the salary will be £22,000 per annum.
Applications:
To apply, please email a CV and covering letter to Jemma Lee, UK Archives Manager, at

This e-mail address is being protected from spambots. You need JavaScript enabled to view it

.

Your letter should address your interest in the Archives Management profession and the HSBC traineeship. Please feel free to email with any questions.

The deadline for applications is 5pm (UK) on Wednesday 11 May 2016.

Interviews are expected to take place on the 23rd and 24th May, with a potential second round on 1st June.
iPRES 2016 | Final countdown for Paper and Poster submissions
Don't miss your chance to present a paper or a poster at this year iPRES conference in Bern, Switzerland.
The final countdown for paper and poster submissions has started. Only 4 days left to the deadline. Submission will close on Monday, April 25 at midnight GMT.
NCDD (http://ncdd.org/) is sponsoring the best paper award and nestor (http://www.langzeitarchivierung.de/) the best poster award. You can win CHF 1'000 and CHF 500 by writing the best paper and the best poster!
For more details on the conference visit the conference website at www.ipres2016.ch. 
DPC and NCDD Webinar: 'The sustainability of born digital art' - 18th May 2016
DPC and NCDD members are invited to attend this webinar with Gaby Wijers, director of the international platform LIMA that focuses on the preservation, distribution and research of media art (www.li-ma.nl). She will talk to us about how the current situation in the Netherlands is concerning the sustainability of born digital art. Can we preserve it for the future, and what is needed to do so?
Gaby will use examples from the research rapport on born digital art of the Dutch Cultural Coalition Digital Preservation (only available in Dutch) and the Transformation Digital Art project from the Dutch Foundation for the Conservation of Contemporary Art (SMBK).
Interested? Here's what to do next:
Date: Wednesday 18th May 2016;

Time 1400-1500 (UK Time)

Registration is not necessary for DPC members, but if you would like to reserve a place, email info [at] dpconline [dot] org
More information
NCDD (the Dutch National Digital Coalition for Digital Preservation) and DPC (the British Digital Preservation Coalition) have teamed up to organize a series of monthly webinars in 2016, with alternate speakers from the British and Dutch preservation field. All webinars are recorded and made available online. Keep an eye on the agenda for upcoming webinars and other joint events.
Recording of Bentley Historical Library's 'ArchivesSpace-Archivematica-DSpace Workflow Integration' webinar - now available online
The recording from the latest in the DPC and NCDD's webinar series with Bentley Historical Library entitled 'ArchivesSpace-Archivematica-DSpace Workflow Integration' is now available online. Members can watch the recording in the members' area of the DPC website using their login. 
The next webinar in the series will be held on Wednesday 18th May. More details to follow soon.
DPC Board, Connecting the Bits, Handbook launch and File Format Briefing Day - Save the Dates, 21st - 23rd June 2016
The Digital Preservation Coalition is pleased to announce the dates for this group of important member events in June this year. By popular request we have combined a short series of events to take place in York, making the travel a little more worthwhile for those members coming from further afield. Please save the dates now for:
21st June, Afternoon, DPC Board Meeting (Board members only)
22nd June, Full day, 'Connecting the Bits'
Don't miss our annual members day and unconference! It's a chance to network with other members from across the Coalition and to set the agenda for the DPC's work for the coming year. Last year's capacity event was a great success, and we're already shaping up the agenda to maximise the debate and discussion and ensure that we have a strong  steer from the Coalition for our member support activities for 2016 and 2017.
22nd June, Evening, Official launch of the DPC Handbook
Join the DPC, our members, sponsors and invited media for a drinks reception to celebrate the launch of the brand new DPC Handbook.
23rd June, Full day, 'What is file format obsolescence and does it really exist?' Briefing Day
The digital preservation literature identifies file format obsolescence as one of the main threats, if not *the* threat, to the longevity of our digital data. But many are now challenging this position. So what exactly is file format obsolescence and does it really exist? This briefing day will gatecrash the confusing world of file formats, it will separate the reality from the dogma, and it will focus our minds on the real digital preservation challenges we are facing.
More details and registration for each of these events will follow shortly.
Preserve Better: Accreditation and Certification for Digital Archives and Digital Repositories - General registration now open
General registration opens today for a ground-breaking Briefing Day on Accreditation and Certification for Digital Archives and Digital Repositories.
Taking place at Bartholomew Square in London, home of the WCIT, this workshop will examine practical experience with emerging standards in the certification of digital preservation facilities; and it will provide a forum to consult on reasonable, practical but enforceable requirements from properly-constituted authorities. 
The day-long event will update Digital Preservation Coalition members on current themes in certification, paying special attention ISO 16363 and the Data Seal of Approval, and it will enable to Archive Service Accreditation to consult members about their emerging requirements for the accreditation of digital archives in the UK, and their plans to roll out. A central consideration in the discussions will be the wisdom – or otherwise – of a consistent framework for continuous quality improvement that can be applied consistently to digital and analogue collections.
Participants at the workshop will:
Better understand emerging trends in archive and repository certification
Better understand the strengths and weakness of specific standards including ISO 16363 and the Data Seal of Approval applied in a number of different contexts
Examine and review the functions of the archival accreditation panel with respect to digital collections
Test and reflect on emerging metrics for the accreditation of digital archives
Make and gather recommendations on behalf of the DPC on quality improvement and accreditation techniques for digital preservation
For more information and to register visit the DPC's event pages now.
Places are strictly limited and should be booked in advance. Registration is free for DPC members who have priority access to registration. Non-members are welcome to join us too, cost £250. If you book a place and do not show up without letting us know 7 days in advance, you will be charged the full price of £250.
All registrations will close on Friday 20th May and early booking is recommended as we expect this event will be popular.
'Preservation Planning for Personal Digital Collections' Case Note and Toolset by Paul Wilson is now available on the DPC website.
Paul Wilson, formerly of the Office Systems Division at The National Computing Centre, has contributed a new addition to the Case Notes now available on the Digital Preservation Coalition (DPC) website.
In this new Case Note, Paul narrates his attempts to create a preservation plan for a small personal collection. In the fuller article (which can be downloaded as a PDF), he outlines his experiences to provide insights into the practical outcomes of using published guidelines and tools for preservation planning. Since he could find no preservation planning process appropriate to individuals, Paul obtained a slide set detailing a simple preservation workflow from the Digital Preservation Coalition, and used that as a foundation on which to establish an approach to the work.
This general approach and accompanying documentation was tested and refined on two of his personal digital collections (one of 800 mementos and the other of 17,000 photos).
"I recounted my PDF experiences not to alert others to specifics about PDF (about which I know very little) or the eCopy software (which I am generally very pleased with)," he explains, "but to illustrate how complicated and time-consuming work on file formats can be."
The detailed account of his research and preliminary trials provides a set of guidance for any individual or institution looking to preserve their own small, digital collection. Paul has also provided the documents he created from scoping to maintaining his collection, along with blank template versions that can be easily used and adapted by others. All of the documents, as well as blank templates, are available to download as a Toolset.
This case note also appears in the DPC's Technology Watch Report Personal Digital Archiving by Gabriela Redwine.
University College Dublin joins the Digital Preservation Coalition
The DPC welcomed University College Dublin (UCD) as its newest Associate Member last week.
Founded one hundred and sixty years ago, UCD has continued to make a unique and substantial contribution to the creation of modern Ireland and in particular to digital services through its UCD Digital Library, the UCD Institutional Repository and the national Irish Social Science Data Archive, operated through the Library.
"Digital preservation is a key part of our digital and data lifecycle," explains Julia Barrett, UCD's Research Services Manager. "Investing in digital preservation enables long term access to content for our users - providing greater access and increasing overall impact."
"We see our DPC membership as a resource for the continuing development of our digital and data collections and services," she adds, "and feel that being part of the DPC will ensure that we develop best practice in this fast changing area."
Chair of the DPC Board and Deputy Keeper of the National Records of Scotland, Laura Mitchell says, "We are delighted to welcome UCD to the DPC. As the only University in Ireland offering postgraduate and continuing professional development courses in Digital Curation and Archives, we are looking forward to co-ordinating the needs of our members with developing the digital archivists of the future."
UCD's postgraduate courses are offered through the School of Information and Communication Studies and the School of History.
The DPC helps members to deliver resilient long-term access to digital content and services, helping them to derive enduring value from digital collections. The coalition also raises awareness of the attendant strategic, cultural and technological challenges and supports members through advocacy, workforce development, capacity-building and partnership.
Click for more information about:
Page 1 of 37